Protection
How much cash would your family need to maintain their current lifestyle if you die prematurely?
More Info
The Value of Retirement Planning
We all know it's important to plan for retirement, but many of us are still not planning well, or early enough.
Despite all the media headlines and Government initiatives, many of us still have a 'tomorrow will do' attitude. This is worrying for one simple reason – we are going to live longer than most of us think.
Those approaching retirement today have many more opportunities and challenges to face than their parents ever did. There are also many more ways to fund retirement, adding to the confusion about how to best prepare for all your needs.
Live long
In 1900, life expectancy at birth in the UK was only 46 years for men and 53 years for women. Just over a century later life expectancy at birth has increased by around 30 years. By 2014 it had reached 78.7 years for men and 82.6 years for women (source: Continuous Mortality Investigation Bureau).
Clearly, life expectancy is increasing, and the higher likelihood of us living longer into retirement presents an important question - will we have enough money to enjoy the lifestyle we desire and to last us, once we have stopped work?
...and prosper?
Some of us are planning our pensions. But few of us plan for 'late retirement'. This is a period from our mid-70s and onwards, when our expenses can rise faster than our pension income can keep up with.
This can happen for various reasons. It could be because we need more help around the home or even that we require nursing care. Then there are unexpected expenses like replacing the roof, health care, or financial help for our families.
But these days, it's just as likely to be because the older generation is leading a more active life through travel, work or leisure.
And don't forget our old enemy – inflation. It continually eats away at the value of our money over time.
Forward planning
This problem has been at the root of much of the recent innovation in the retirement market. Getting sound financial advice throughout the different stages of retirement will help identify which products can help you achieve the income you need.
Although it may seem a long way off, making robust financial plans now for late retirement will give you the peace of mind to enjoy your early retirement years - safe in the knowledge that you will be able to live the lifestyle you desire further down the line.
A pension is a long term investment. The fund value may fluctuate and can go down. Your eventual income may depend on the size of the fund at retirement, future interest rates and tax legislation.
Advice Guide

A guide to investment planning. In this guide, we aim to give you a broad overview of how we could help you with your investment planning. If you'd like to learn more, then get in touch and we'll provide you with expert advice tailored to your personal circumstances.

The world of investing can seem a bit daunting, particularly if you're new to it. This pack is designed to demystify some of the basics surrounding investing and give you some insight into how it works. We'll talk you through your options and our four investment principles to help you make more of your money without taking any more risk than you're comfortable with.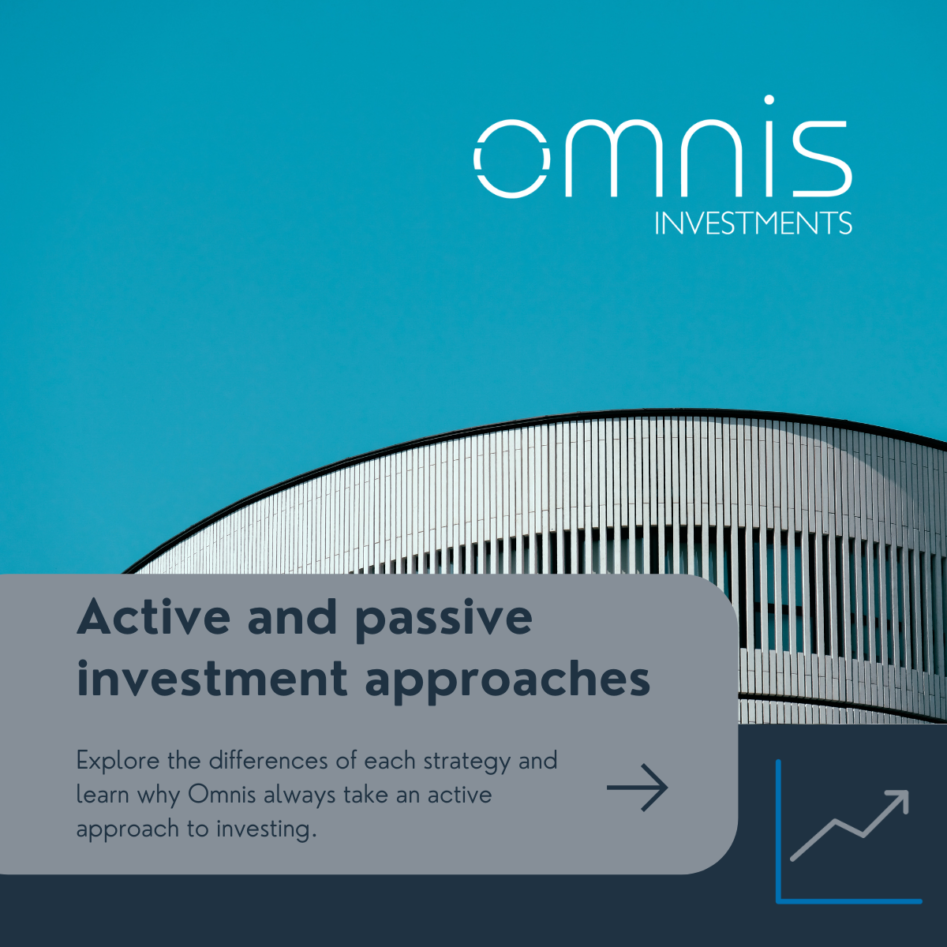 The benefits and drawbacks of active and passive investing are often the subject of fierce debate, explore the latest update to compare the differences of both and why Omnis choose an active approach every time.

Indices
Value
Move
%
FTSE 100
7,234.03
26.32
0.37
FTSE All Share
4,123.97
16.09
0.39
Currencies
Value
Move
%
Euro
1.19
0.00
0.04
United States Dollar
1.38
0.00
0.31
Data is compiled by Adviser Portals Ltd every 60 minutes. Information is not realtime. Last updated: 17/10/2021 at 11:00 PM