Protection
How much cash would your family need to maintain their current lifestyle if you die prematurely?
More Info
Automatic Enrolment for Employers
Please note that most advice on auto-enrolment, occupational pensions and workplace pensions is not regulated by the Financial Conduct Authority but by The Pensions Regulator.
What is Automatic Enrolment?
The government introduced new legislation in 2012 designed to help people save more for their retirement. It requires all employers to enrol eligible workers into a workplace pension scheme if they are not already in one. Automatic enrolment started being phased in from October 2012 and has now been full rolled out. Most employers will have to set up and contribute to a pension scheme suitable for automatic enrolment.
Understand Your Workforce
You will need to understand the different types of workers and what defines them, as well as the corresponding employer duties for each type of worker. Some types of contracts will require close examination to identify where the employer duties lie eg. for agency workers or contractors.
Business Software and Systems Processes
Many of the functions necessary to comply with automatic enrolment duties are process-driven. Business software (eg. payroll, HR and pensions administration) should be set up to automate the majority of these processes, such as monitoring ages and earnings of workers and deducting pension contributions.
Review Pension Arrangements
You may have existing pension schemes you want to use for automatic enrolment. These schemes will need to meet certain criteria, which could involve changing the scheme rules or terms and conditions. You'll need to understand how the new legislation fits with existing pension arrangements, such as salary exchange or contractual enrolment.
Communication
There is a range of information that you are required to provide to your workers, such as providing them with financial information about the contributions that they and you may be making towards their pension. Some information must be sent individually to each worker as well as making sure the right person gets the right information at the right time (eg. if they change worker category).
Compliance
There are certain employer duties you must comply with. If you fail to comply with your duties The Pensions Regulator may take enforcement action and issue a notice and or a penalty.
Registration
You are required to complete a declaration of compliance for The Pensions Regulator to inform them what you have done to comply with your automatic enrolment duties. The duty to complete the declaration of compliance lies with the employer and needs to be completed within the five months following your duties start date.
Information in this article is based on our understanding of the relevant legislation at the time of writing (October 2018). For further information visit The Pensions Regulator website.
Advice Guide

A guide to investment planning. In this guide, we aim to give you a broad overview of how we could help you with your investment planning. If you'd like to learn more, then get in touch and we'll provide you with expert advice tailored to your personal circumstances.

The world of investing can seem a bit daunting, particularly if you're new to it. This pack is designed to demystify some of the basics surrounding investing and give you some insight into how it works. We'll talk you through your options and our four investment principles to help you make more of your money without taking any more risk than you're comfortable with.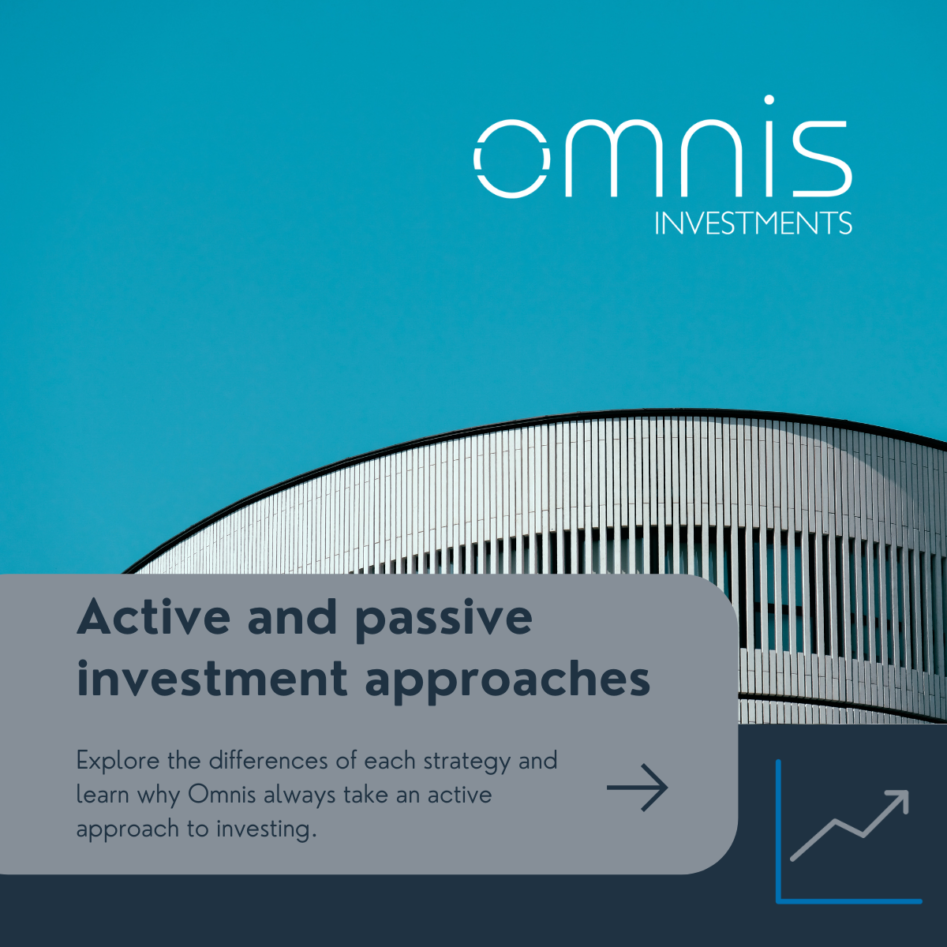 The benefits and drawbacks of active and passive investing are often the subject of fierce debate, explore the latest update to compare the differences of both and why Omnis choose an active approach every time.

Indices
Value
Move
%
FTSE 100
7,234.03
26.32
0.37
FTSE All Share
4,123.97
16.09
0.39
Currencies
Value
Move
%
Euro
1.19
0.00
0.10
United States Dollar
1.38
0.00
0.30
Data is compiled by Adviser Portals Ltd every 60 minutes. Information is not realtime. Last updated: 17/10/2021 at 10:00 PM